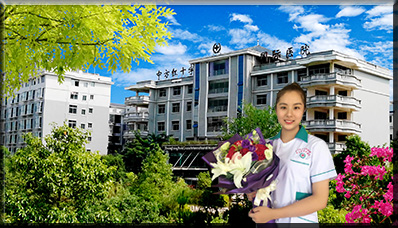 From 2000 till now, nearly 3000 international friends, from more than 100 countries, have come to our facility.
 

Many international friends in our hospital find the fact that "most international patients who suffer from chronic and difficult health problems could get obvious improvement during the first two weeks." For example, the curative result for lumbar disc protrusion and sciatica is very significant

.

We treat them by pure TCM treatment with low cost and quick effectiveness. No surgery, no side effect, no hormone, no sequela. For lumbar disc protrusion, you will see some improvement after one week treatment, it can be cured after one and a half months...... Also the treatment results for hypertension is good, generally speaking, you won't need to take medicine after two months treatment and don't need western medicine in your whole life either.
On March 18, 2012, our Jordanian patient's father Dr. Walid wrote a letter to the President of Red Cross of China, Mr. Hua Jianmin, to express great appreciations to Hu Jintao, the President of China and Wen Jiabao, the Premier of China, traditional Chinese medicine (TCM) as well as our hospital for successfully curing his daughter's 13 years' tormenting Progressive Systemic Sclerosis SCLERODERMA. Check the details here

On 19th May, 2019, the foreign friends went to Biguiyuan and Botanical Garden.

 

On 5th May, 2019, the foreign friends from USA, Canada, Kuwait and Mongolia visited Zhijiang City.

 

The foreign friends from Mexico and Canada discussed TCM with our President Dr.Ming.

 

On 14th April, 2019, some foreign friends visited Jinshi Garden

accompanied by our staff

.

 

On 7th April, 2019,

accompanied by our President Dr. Zhu Ming,

the foreign friends from the Middle East investigated Changshang Gaoqiao Big Market and bought healthy products.

 

On 31st March, 2019, the foreign friends from Iran and Kuwait went to Zhongfang Industrail Park to see the flowers.

 

In the middle of March, we came to the countryside to enjoy the scenery with our overseas friends.

 

In the second half of February, we came to Huaihua South High Speed Train Station to meet friends from the Middle East.

 

On 30th January 2019, a seminar and dinner banquet on TCM and introducing Zhongfang Red Cross International Hospital as the leading hospital in TCM Treatment was held in Alwelaya DIWAN Salwa city, Kuwait. The attendance was more than 60 gentlemen.

 

The students group from Canadian College of Naturopathic Medicine came to our hospital for one month's TCM Internship.

Congratulations on the opening of the "TCM Scientific Research Base For World No.1 Difficult Health Problem ALS" in Zhongfang Red Cross International Hospital on July 1st, 2017.

 

Our new dynamic video on youtube

Good Comments from Our International Patients on Our Service

 

Important notices:

1. Before coming to our hospital, please contact us for an invitation letter so that you could get your visa in the Chinese embassy in your country. Thanks!

2. Even though China is a very safe country in the world, before travelling to our hospital, any friend is advised to purchase trip insurance in your city for your security. Since in China we are not able to buy this kind of insurance for you. Thanks for your understanding and cooperation.

 

Our Video Medical Report on ALS Treatment

Medical Report about scleroderma treatment

Medical Report about MS (multiple sclerosis)

Successful Cases for Cancer treatment

Successful Cases for kidney failure

Successful Cases for Lumbar Disc Protrusion And Sciatica

 

More Videos of us on youtube or More Videos of us on youku

Two of our product patents are welcoming intelligence transfer or manufacturing cooperation

 

Hospital Address:

Zhongfang Red Cross International Hospital,

Dangui Road, Zhongfang County,

Huaihua City, Hunan Province,

China.

Zip code: 418005

Contact Tel: 86 745 2813387(from 8:30 to 22:00 China Time)

Skype Account: tcmtreatment03