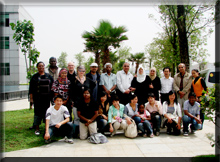 The left picture: On April 25, 2009, our international patients have a photo taken with the translators in the new city Zhongfang.
(Patients friends from: Nigeria, Switzerland, Ghana, Sri Lanka, Jordan and USA)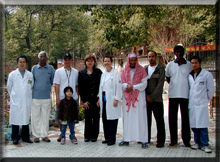 On February 14, 2009, the international patients from Sri Lanka, Romania, Yemen and Canada came to our hospital for the TCM treatment.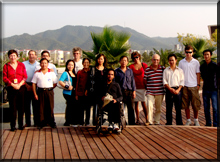 On October 5, 2008, our international patients from France, Germany, Bulgaria, Norway, Romania and Switzerland enjoyed the time in our Zhongfang new city.
On August 20, 2008, international patients from Turkey and Libya were hospitalized in our hospital for our TCM treatment.
The left picture: Three officers from the Red Cross Organization of the Hessen State of Germany visited our TCM service on June 5, 2008.
The right picture: Our international patients visited the new city Zhongfang where we will build up our new hospital. The governor of the city Mr. Hu was happy to meet them. March, 2008.
October 30th, 2006, Mr.Syed Zafar Abbas Jafri with Ms Joanna, a Chinese medicine salesman from Pakistan, came to Huaihua Red Cross Hospital for herbs.
From October, 2006 to December, 2006, Miss Tranthicit (cancer/from Vietnam), Mr. Lin (flatus and cervical spondylosis/from Malaysia), Kim (MS/from America), Calender (MS/from Canada), Sunny (arthralgia-synadrome/from India), Sally (hepatitis II/from Nigeria), Washa (phalacrosis/from Russian) Aimen(gromerulonephtitis/from Libya) and Mohammed (MS/from Saudi Arabia) were in Huaihua Red Cross Hospital for TCM treatment.
As shown by the left picture, September 10th, 2006, Jenifer Willims (from the left by two) and Jessica Phung ( from the left by one), who come from California TCM Academy arrived Huaihua Red Cross Hospital for TCM skill improvement. Now there is good friendship among them and our three old professors.
As shown by the right picture, September 15th, 2006, an American doctor (from the left by three) and an Egyptian doctor (from the right by three) came to Huaihua Red Cross Hospital for medical exchanges or skill improvement in TCM.
September 13, 2006, eight international Chinese Medicine students from Israel come to our school and hospital to pursue further education for theory and clinical study.