Genkwa (yuan hua)
Flos Genkwa
Properties: Pungent and bitter in flavour, cold in nature, being poisonous, it acts on the lung, kidney and large intestine channels. Pungent for dispersing, bitter for sending down, cold for clearing away, the herb has the laxative effect on urine and stool and can remove fluid retention. Its action is similar to that of kansui root and knoxia root. It is a poisonous herb, suitable for edema due to syndrome of excess type. In addition, it has parasiticidal effect and antipruritic effect, and is effective for skin diseases by external application.
Effects: Removing fluid retention, being parasiticidal and effective for skin disease.
Indications:
1. For hydrothorax, ascites, constipation and difficulty in micturition due to syndrome of excess, the herb is often used in combination with kansui root and knoxia root for reinforcing the synergistic function.
2. For scalp fungus infection, infantile tinea capitis and neurodermatitis, the powder of genkwa flower is used alone or mixed with realgar powder and lard to make up an ointment for external application.
Dosage and Administration: 1.5-3g, it is usually used internally in pills or powder, 0.6g each time, proper dosage for external use. The herb after processing by vinegar can reduce its toxicity.
Precautions: It is contraindicated for pregnant women and weak patients and is antagonistic to liquorice.
----------------------------------------------------------------------------------------------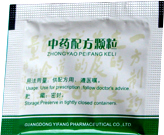 For the convenience of customers, we offer the Genkwa (yuan hua) as the quick-dissolving granule made through modern technology.
Directions:
Every sachet is equivalent to raw herb 3 grams.
The dosage is for adults, one sachet each time, once a day. Please put the granule into a cup, then put 50-100ml boiling water into the cup and stir it with spoon. You will get some tea, drink it when it is luke-warm. For children, the dosage should be reduced according to the weight.
Air ship 50 sachets of Genkwa (yuan hua) in the form of quick-dissolving granule for your personal use now at $50.00

.
If you would like to order this raw herb, please go to the order form.