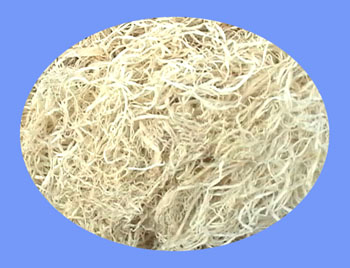 Bamboo Shavings (zhu ru)
Caulis Bamfusae In Taeniam
Properties: It is sweet in flavour and slightly cold in nature. It is tropistic to the lung and stomach channels. Its slight coldness is good at clearing heat from lung and stomach, resolving phlegm and arresting vomiting, relieving restlessness and tranquilization. It is indicated in cough due to phlegm-heat, vexation due to phlegm stagnancy, vomiting due to stomach-heat, and other syndromes.
Effects: Removing heat-phlegm, relieving restlessness and vomiting.
Indications:
1. For treatment of cough due to phlegm-heat, cough with yellow, thich sputum, it is frequenty used together with Radix Scutellariae, Fructus Trichosanthis, Arisaema cum Bile, and other heat and phlegm-relieving herbs; For treatment of up-ward disturbance of phlegm-fire, restlessness, cough with expectoration and insomnia, it can be used in combination with Fructus Aurantii Immaturus, Pericarpium Citri Reticulatae, Rhizoma Pinelliae, and other drugs in order to remove heat and phlegm to relieve vexation and to tranquilize.
2. For treatment of stagnancy of phlegm-heat, failure of descending of the stomach-qi, vomiting due to adversed Qi, it is usually used together with Rhizoma Coptidis, Pericarpium Citri Reticulatae, Rhizoma Pinelliae in order to remove heat and phlegm, lowering the adverse flow of Qi to stop vomiting. By appropriate usage in combination with other drugs, it is also indicated in vomiting due to deficiency syndromes of the stomach or vomiting of pregnancy.

Dosage and Administration: 5-10g. For relieving vomiting, it is used after stir-frying with ginger juice.

---------------------------------------------------------------------------------------

-------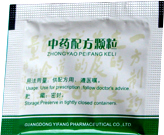 For the convenience of customers, we offer the

Bamboo Shavings (zhu ru)

as the quick-dissolving granule made through modern technology.

Directions:

Every sachet is equivalent to raw herb 10 grams.

The dosage is for adults, one sachet each time, twice a day. Please put the granule into a cup, then put 50-100ml boiling water into the cup and stir it with spoon. You will get some tea, drink it when it is luke-warm. For children, the dosage should be reduced according to the weight.

Air ship 50 sachets of Bamboo Shavings (zhu ru)

in the form of quick-dissolving granule for your personal use now at $98.00.

If you would like to order this raw herb, please go to the order form.