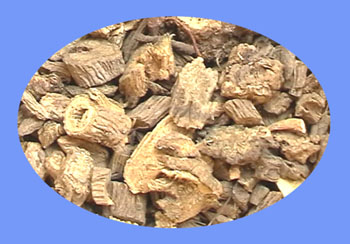 Dipsacus Root

(xu duan)

Radix Dipsaci

Properties: Bitter, sweet and pungent in flavour, mildly warm in nature, it is tropistic to the liver and kidney channels. Being sweet and warm, it can strengthen Yang and tonify the liver and kidney; owing to the pungent and warm nature, it can also promote blood circulation. As a tonic, it functions mildly and without sticky property in tonifying the kidney, preventing abortion, promoting blood circulation and curing trauma. Thus, it serves to treat syndromes of deficiency of Chong and Ren Meridians, threatened abortion, traumatic ecchymoma and injury of muscles and bones.

Effects: Tonifying the liver and kidney, promoting reunion of fractured bones and preventing abortion.

Indication:

1. For insufficiency of the liver and kidney, or pain in the loins and knees, weakness of muscles and bones due to protracted rheumatism, it is often used with herbs for tonifying the liver and kidney, and dispelling wind-dampness, such as Radix Achyranthis Bidentatae, Cortes Eucommiae, Ramulus Loranthi, Radix Gentianae Macrophyllae and Radix Angelicae Pubescentis, etc.

2. For threatened abortion due to kidney-deficiency hyperactivity of the fetus with vaginal bleeding, metrorrhagia and metrostasis it can be used with herbs for preventing abortion and hemostasis, such as Ramulus Loranthi, Colla Corii Asini, Semen Cuscutae, Herba Agrimoniae, etc.

3. For traumatic ecchymoma and pain, injury of muscles and bone fracture, it is often used with drugs for relieving blood stasis and pain, promoting reunion of fractured bones, such as Flos Carthami, Radix Angelicae Sinensis, Lignum Sappan, Resina Olibani, etc.

Dosage and Administration: 10-15g.

---------------------------------------------------------------------------------------

-

------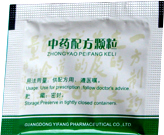 For the convenience of customers, we offer the

Dipsacus Root

(xu duan)

as the quick-dissolving granule made through modern technology.

Directions:

Every sachet is equivalent to raw herb 10 grams.

The dosage is for adults, one sachet each time, twice a day. Please put the granule into a cup, then put 50-100ml boiling water into the cup and stir it with spoon. You will get some tea, drink it when it is luke-warm. For children, the dosage should be reduced according to the weight.

Air ship 50 sachets of Dipsacus Root

(xu duan)

in the form of quick-dissolving granule for your personal use now at $98.00.

If you would like to order this raw herb, please go to the order form.