Germinated Barley (mai ya)

Fructus Hordei Germinatus

 

Properties: The herb is sweet in flavour, neutral in nature, and it acts on the spleen, stomach and liver channels. Being sweet for tonifying the spleen and nourishing the stomach, it can regulate Qi, alleviate depression, relieve food stagnation. It is particularly good at eliminating undigested flour food. The herb is often used to treat deficiency of the spleen, anorexia, food retention, indigestion and other syndromes. A large dose of barley is lactifugal.

Effects: Promoting digestion, inducing appetite, stopping lactation and relieving flatulence.

Indications:

1. The herb is often used in combination with medicated leaven, hawthorn fruit, areca seed and other herbs for relieving food stagnation, to treat food retention, anorexia, distention and fullness in the stomach and abdomen and indigestion, and with white atractylodes rhizome amomum fruit, chicken's gizzard-skin and other drugs for supplementing Qi, strengthening the spleen, promoting digestion and inducing appetite, to treat deficiency of the spleen and anorexia.

2. To cease lactation and to relieve distending pain due to milk accumulation, a large dose of the herb can be decocted for use.

Dosage and Administration: 10-12g. 30-120g in a large dose.

Precautions: Breast feeding women should not use it.

----------------------------------------------------------------------------------------------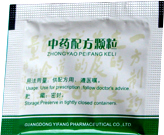 For the convenience of customers, we offer the

Germinated Barley (mai ya) as the quick-dissolving granule made through modern technology.

Directions:

Every sachet is equivalent to raw herb 15 grams.

The dosage is for adults, one sachet each time, twice a day. Please put the granule into a cup, then put 50-100ml boiling water into the cup and stir it with spoon. You will get some tea, drink it when it is luke-warm. For children, the dosage should be reduced according to the weight.

Air ship 50 sachets of Germinated Barley (mai ya)

in the form of quick-dissolving granule for your personal use now at $98.00.

If you would like to order this raw herb, please go to the order form.