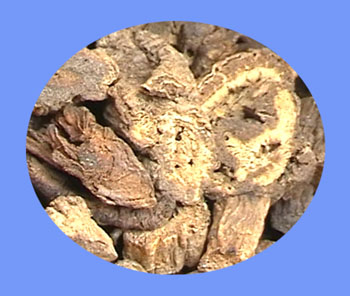 Pubescent Angelica Root (du huo)
Radix Angelicae pubescentis
Properties: Pungent and bitter in flavour, warm in nature, it acts on liver, kidney and urinary bladder channels. Being pungent for dipersing heat, warm for dispersing cold, bitter and dry for eliminating dampness, the herb is effective for relieving pain of waist and knees caused by wind-cold-dampness and relieving headache caused by wind and cold of Shaoyin Channel. It is suitable for patients with chronic diseases.
Effects: Expelling pathogenic wind, dampness, cold and relieving pain.
Indications:
1.

Arthralgia due to wind dampness, especially pains in the lower part of the body (waist and legs), the herb is used in combination with drugs for replenishing the liver and kidney, such as ledebouriella root (Rhizoma Ledebouriellae), eucommia bark (Cortex Edcommiae), loranthus mulberry mistletoe (Ramulus Loranthus), etc.
2.

Wind-cold-dampness attack, manifested as aversion to cold, fever, headache, general pains, adiaphoresis, it is often used together with notopterygium root and ledebouriella root; for chronic headache caused by wind in the interior, it is usually used in combination with Chuanxiong rhizome (Rhizoma Ligustici Chuanxiong), asarum (Herba Asari) and gastrodia tuber (Rhizoma Gastrodiae).
Dosage:
3-10g.
----------------------------------------------------------------------------------------------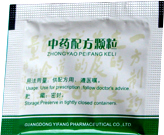 For the convenience of customers, we offer the Pubescent Angelica Root (du huo)

as the quick-dissolving granule made through modern technology.

Directions:

Every sachet is equivalent to raw herb 10 grams.

The dosage is for adults, one sachet each time, once a day. Please put the granule into a cup, then put 50-100ml boiling water into the cup and stir it with spoon. You will get some tea, drink it when it is luke-warm. For children, the dosage should be reduced according to the weight.

Air ship 50 sachets of Pubescent Angelica Root (du huo)

in the form of quick-dissolving granule for your personal use now at $108.00.

If you would like to order this raw herb, please go to the order form.