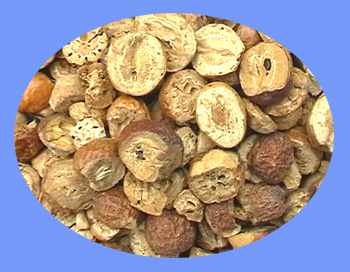 Sichuan Chinaberry (chuan lian zi)
Fructus Meliae Toosendan
Properties: The herb is bitter in flavour, cold in nature and toxic. It acts on the liver and stomach channels. Being bitter for purging and cold for clearing heat, it can soothe liver, purge heat, promote Qi circulation and alleviate pain. The herb is indicated for syndromes caused by liver-Qi stagnation, and the secondary fire and incoordination between the liver and stomach, and for expelling worms to treat abdominal pain due to roundworms.
Effects: Soothing the liver, promoting Qi circulation, purging fire, alleviating pain and expelling worms.
Indications:
1. The herb can be used in combination with green tangerine orange peel, gentian root, capejasmine and other herbs for soothing the liver and purging fire, to treat liver-Qi stagnation and the secondary fire, hypochondriac pain, bitter taste, conjunctival congestion and dry feces; with corydalis tuber for soothing the liver and alleviating pain, such as Jinlingzi Powder, to treat incoordination between the liver and stomach, hypochondriac pain and acid regurgitation; and with common fennel fruit, evodia fruit, aucklandia root and other herbs for dispersing cold, promoting Qi circulation and alleviating pain, to treat stagnation of cold in the liver channels, gastro-intestinal colic due to invasion of cold, and abdominal pain.
2. To treat abdominal pain due to roundworms, the herb is often used in combination with quisequalis fruit, arect aeed, prickly ash peel and other herbs for expelling roundworms. To treat itching due to sarcoptidosis and tinea, the herb can be baked yellow, ground into powder, evenly mixed with lard or sesame oil and applied externally.
Dosage and Administration: 5-10g, Suitable amount for external use.
Precautions: Because of its toxicity, the herb should not be taken in an excessive dosage for a long time. Patients with liver or kidney diseases should be prohibited from using it.

----------------------------------------------------------------------------------------------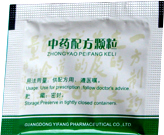 For the convenience of customers, we offer the

Sichuan Chinaberry (chuan lian zi) as the quick-dissolving granule made through modern technology.

Directions:

Every sachet is equivalent to raw herb 10 grams.

The dosage is for adults, one sachet each time, twice a day. Please put the granule into a cup, then put 50-100ml boiling water into the cup and stir it with spoon. You will get some tea, drink it when it is luke-warm. For children, the dosage should be reduced according to the weight.

Air ship 50 sachets of Sichuan Chinaberry (chuan lian zi)

in the form of quick-dissolving granule for your personal use now at $98.00.

 

If you would like to order this raw herb, please go to the order form.