Pulsatilla Root (bai tou weng)
Radix Pulsatillae
Properties: Bitter in flavour, cold in nature, it acts on the stomach and large intestine channels. The cold property of the herb clears heat and the bitter flavour purges heat downwards. It is good at removing the stagnated noxious heat in the large intestine and is effective in cooling blood and detoxicating, clearing bowels and dysentery. It is therefore indicated for dysentery due to dampheat or dysentery with bloody stool caused by noxious heat.
Effects: Clearing away heat, detoxicating, removing heat from blood and treating dysentery.
Indications: For dysentery with bloody stool due to noxious heat, abdominal pain, diarrhea, diarrhea with purulent and bloody stool, tenesmus, high fever and restlessness, this single herb can be used or in combination with coptis root and phellodendron bark to improve the cactivity of heat-clearing and detoxicating, known as Baitouweng Tang (Decoction of Pulsatilla).
In modern clinical practice, it is often used to treat bacillary and amebic dysentery.
Dosage and Administration: 6-15g, quatum satis when applied externally.
----------------------------------------------------------------------------------------------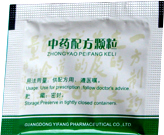 For the convenience of customers, we offer the Pulsatilla Root (bai tou weng) as the quick-dissolving granule made through modern technology.
Directions:
Every sachet is equivalent to raw herb 10 grams.
The dosage is for adults, one sachet each time, twice a day. Please put the granule into a cup, then put 50-100ml boiling water into the cup and stir it with spoon. You will get some tea, drink it when it is luke-warm. For children, the dosage should be reduced according to the weight.
Air ship 50 sachets of Pulsatilla Root (bai tou weng) in the form of quick-dissolving granule for your personal use now at $98.00.
If you would like to order this raw herb, please go to the order form.