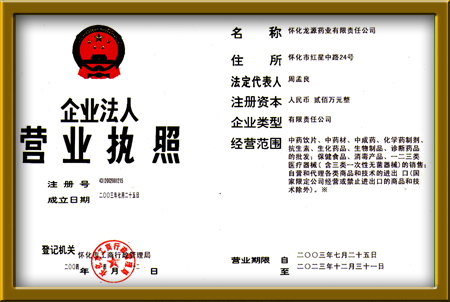 Certificate Three: Management Certificate Of Medicines
Major Contents:
Enterprise Name: Huaihua Longyuan Medicine CO., LTD.
Governmental Administrative Office: Huaihua Administrative Bureau of Commerce
Registration Funds: Two Million RMB (240 thousand USD)
Business Scope: Allowed to manage Chinese herbs, herbal products, chemical injections, antibiotics, bio-medications, medical staff for diagnosis, health products, medical instruments. Can import and export any kind of goods and techniques that are not forbidden by the Chinese government.
Registration Number: 4312002001215
Legal Representative of Company: Zhou Mengliang
Expire Date: Dec. 31, 2023